Wells and McComas
Funeral and Monument Song,
Baltimore, September 13, 1858
For "Border song Book" No. 2 — Copy Right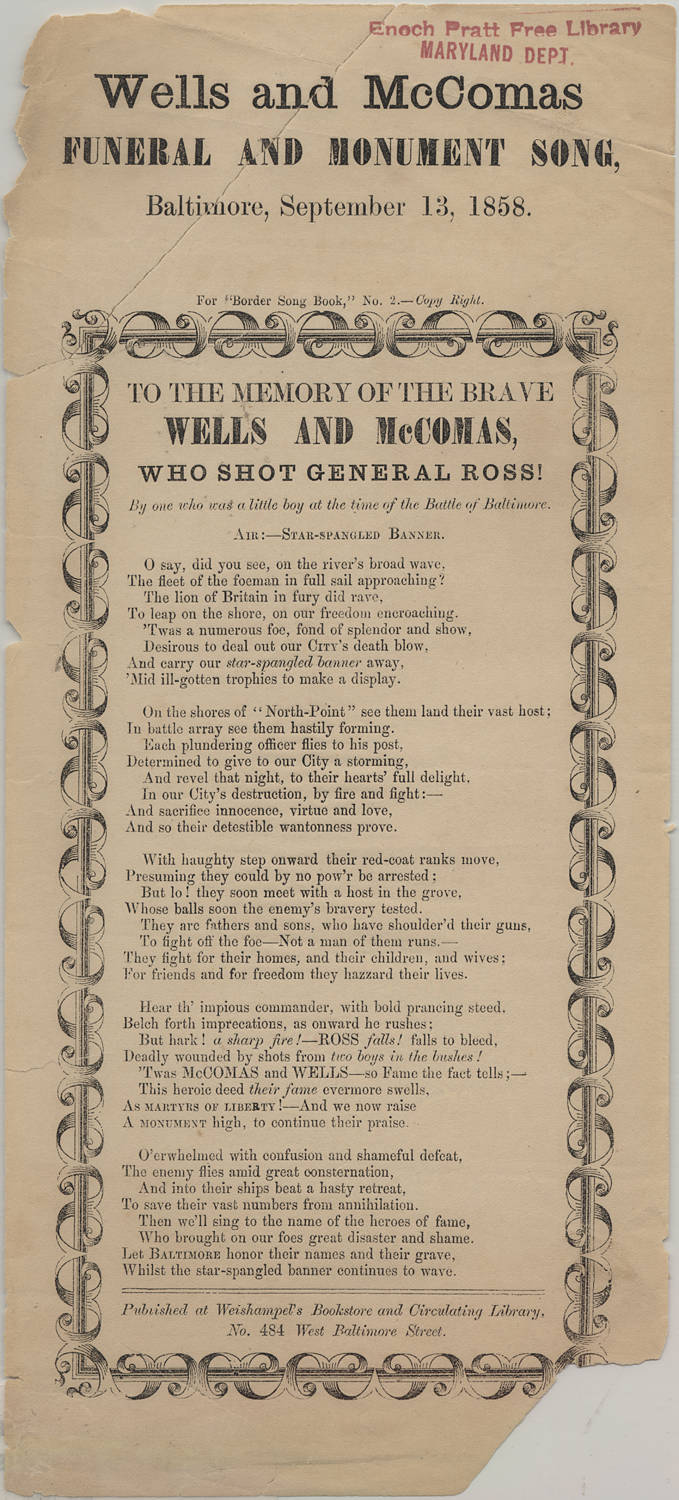 TO THE MEMORY OF THE BRAVE
WELLS AND McCOMAS,
WHO SHOT GENERAL ROSS!
By one who was a little boy at the time of the Battle of Baltimore.
Air: — Star-Spangled Banner
O say, did you see, on the river's broad wave,
The fleet of the foeman in full sail approaching?
The lion of Britain in fury did rave.
To leap on the shore, on our freedom encroaching.
'Twas a numerous foe, fond of splendor and show,
Desirous to deal out our city's death blow,
And carry our star-spangled banner away,
'Mid ill-gotten trophies to make a display.

On the shores of "North-Point" see them land their vast host;
In battle array see them hastily forming.
Each plundering officer flies to his post,
Determined to give to our City a storming,
And revel that night, to their hearts' full delight.
In our City's destruction, by fire and fight:—
And sacrifice innocence, virtue and love,
And so their detestible wantonness prove.

With haughty step onward their red-coat ranks move.
Presuming they could by no pow'r be arrested;
But lo! they soon meet with a host in the grove,
Whose balls soon the enemy's bravery tested.
They are fathers and sons, who have shouldered their guns,
To fight off the foe—Not a man of them runs.—
They fight for their homes, and their children, and wives;
For friends and for freedom they hazzard their lives.

Hear th' impious commander, with bold prancing steed.
Belch forth imprecations, as onward he rushes;
But hark! a sharp fire!—ROSS falls! falls to bleed,
Deadly wounded by shots from two boys in the bushes!
'Twas McCOMAS and WELLS—so Fame the fact tells;—
This heroic deed their fame, evermore swells,
As MARTYRS OF LIBERTY!—And we now raise
A monument high, to continue their praise.

Overwhelmed with confusion and shameful defeat,
The enemy flies amid great consternation,
And into their ships beat a hasty retreat,
To save their vast numbers from annihilation.
Then we'll sing to the name of the heroes of fame,
Who brought on our foes great disaster and shame.
Let Baltimore honor their names and their grave,
Whilst the star-spangled banner continues to wave.

Published at Weishampel's Bookstore and Circulating Library,
No. 484 West Baltimore Street.

Original in the Enoch Pratt Free Library