WAR CORRESPONDENTS' MEMORIAL
(AT GAPLAND, MD, l896)
by George Alfred Townsend
ARCH aerial, view ethereal,
Sky and stars and moonlit cloud,
Harvest fields of golden cereal,
Rainbow on the mountains bowed;
Mountain ridges stepped like bridges,
O'er the rich campagna vale;
Storm which marches with lightning torches
Firing volleys of bullet hail;
Windstorm boreal, rainstorm oriel.
Snow pictorial on knob and town­-
All are revealed through our Memorial,
Grim as a cyclop staring down.

Born so rigid, stony and frigid,
Moor and Roman it must be,
Long erected, a gate dissected
From some castle's feudality;
Or set in the passes, where saying masses,
Pilgrims, crusaders, kneeling them,
Gazed and trembled, with undissembled
Joy, in the sight of Jerusalem.
Vale of Catoctin, like jewels locked in
An azure casket, flash thy lights!
Like the Escorial, our Memorial
Guards them all from the mountain heights.

Yawning fortalice, thine the portal is
Freedom opened with her pen,
When the valley so musically
Pealed with bugles of armM men;
Walls of mountain burst with a fountain,
Smitten from rock by our Moses,
Frowning height arched with the light,
Bloomed the Bastile into roses.
Prison and light, ruin and right,
Show in the gap, grim and lean;
Homely, manorial. our Memorial
Witnesses what it has seen.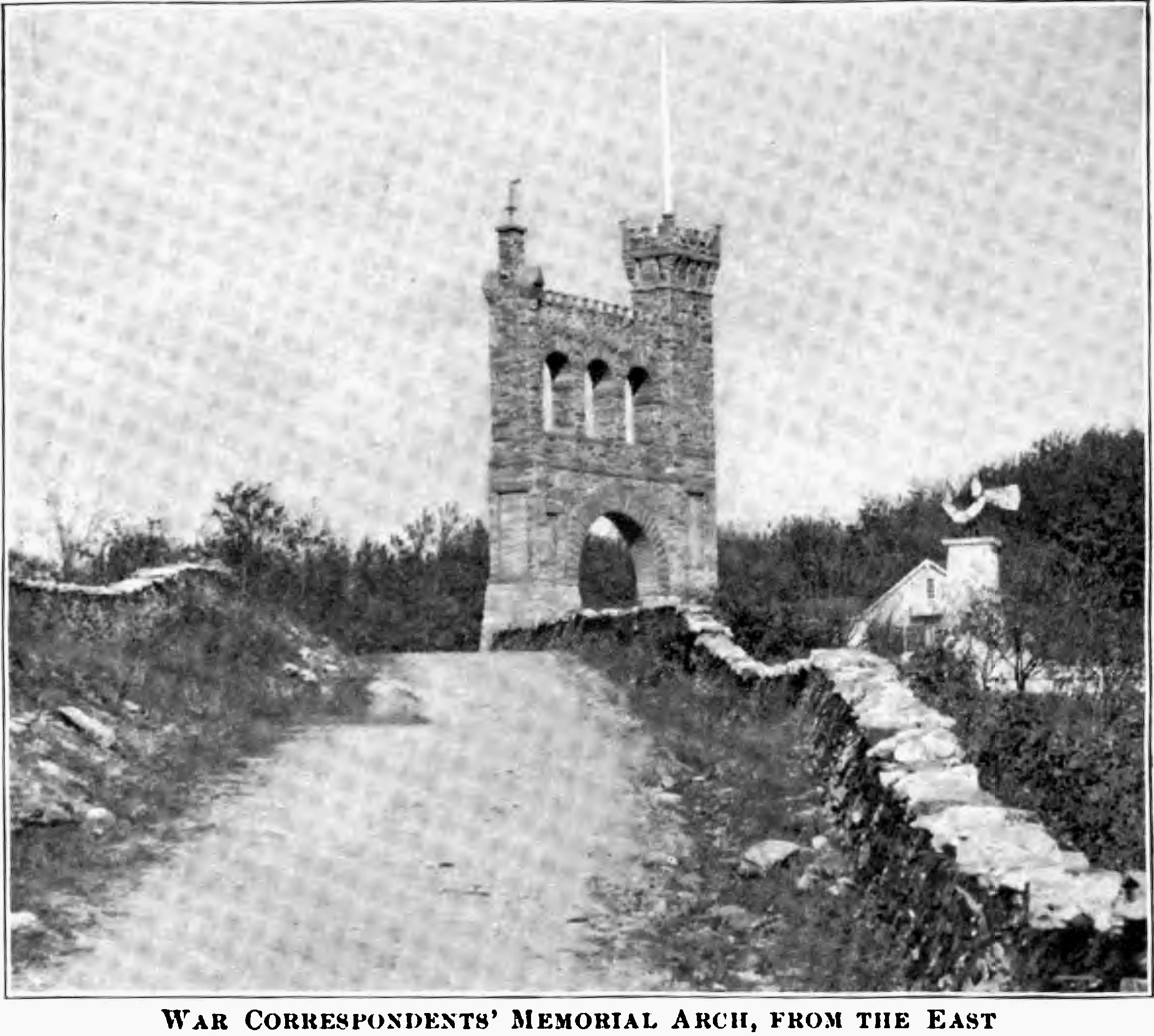 Windows stand triple, each of them typal,
Each an evangel's page white;
One is Depiction, one is Description,
One is Photography's light.
These in acclivity, arch on activity,
Horse-shod the Centaur uprears;
Unicorn-towered, forest embowered,
Sun dial, sentry of years;
Letters amidst the arms, history o'er the farms,
Socketing moon and the stars,
High and pictorial, our Memorial
Tells of the tellers of wars!

---